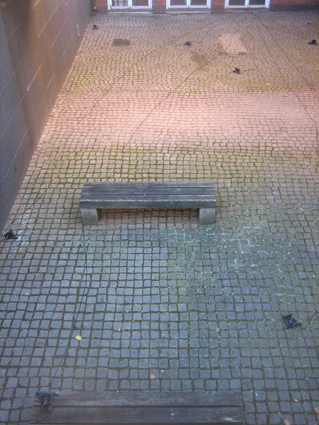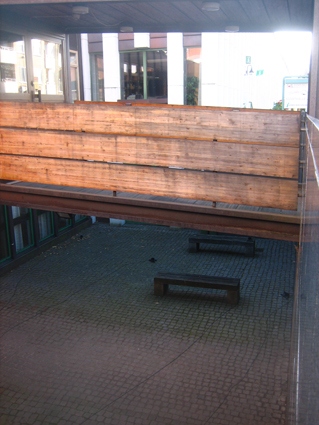 Atrium (2008)
Public Sound Installation

Made for Vindöga Festival, Sandvikens Konsthall

Tiny piezo tweeters placed out on the floor of a roofless atrium space, situated next to the entrence of the art hall.

A low voised, high pitched, spectrally "bird like"
sound material expropriated the space during the exhibition period, with an intention of making the space itself visible.
The point of departure for the article is sound as a spatially producing medium
and that production of spaces in the public realm undoubtedly leads to a multitude
of issues closely connected to, on the one hand claiming space, and on the other hand giving place.
This borderline is the focus of my study.
Artistic sonic practises in public realm, thus implies, firstly, a negotiating of spatiality,
based on a profound understanding of the several spatial interests (acoustic and non-acoustic) continuously shifting,
and secondly, the development of strategies focusing on how to relate to this.
If the public realm could be understood in terms of a number of territorial overlays of temporary and time stable spheres, in which meanings of and the interconnection between change over time, the artistic act of creating spaces within this context could be understand in terms of establishing temporarily "counter territories".
In the article I will discuss some established spatial concepts, such as territorialism/deterritorialism/reterritorialism (Deleuze – Guattari), modes of appropriation (Lefebvre), coded space (among others Augé) and stabilisation/destabilisation and connect the discussions derived from their respectively context to the issue of place making in public site specific sonic practices in public realm and the establishment of "counter territories". The aim is to further shed light on issues that might sound obvious but nerveless contain a great complexity, such as: What does negotiating really mean? What does relate to mean?
At the centre of the discussion is some of the medium specific qualities of sound, such as temporality,
and "the double effect of sound" – ie the capacity of both commenting upon and generate space at the same time.
The article will partly be based on my own artistic practise and the considerations
I constantly confront in my work in public realm.
/The article will be proofread in contrast to this abstract/