Ein Klangwäldchen für Kurfürstenstraße 134.
Sonic Grove / Kurfürstenstraße 134
Public multi channel sound installation within the sound art exhibition "Klangraum Kurfürstenstraße" Berlin June-August 2007.

Produced by K&K Kulturmanagement & Kommunication in commission of Quartiersmanagements Magdeburger Platz. In cooporation with Universität der Künste Berlin (Prof. Daniel Ott, Komponist, Institut für Neue Musik der UdK Berlin and Dr. Martin Supper, UNI.K- Udk Studio für Klangkunst und Klangforschung)
Technical realization: Fox Ingenieurbüro Berlin.
The point of departure for the sound installation Klangwäldchen is the wild growing clump of birches in the estate of Kurfürstenstrasse 134. In urban surroundings, weeds; as part of "nature", do in contrast to cultivated plants; as part of "culture", have a non-existent value, even though the classification of the concepts "culture" and nature" many times is rather subtle .
This sight of "nature" respective "culture" very clearly colours the view of the self planted birches in a place like Kurfürstenstrasse 134 and is the point of departure for the art piece.
The birch trees, in this case defined as weeds, live anonymous invisible lives behind the fence of this non-place, and the main intention with the installation Klangwäldchen was to make "visible" the anonymous vegetation and by this give it a value for a period.

During the exhibition these trees were given "voices". By devoting an amount of trees within this area a certain sound, distributed through loudspeakers mounted on the tree trunks, an atmosphere of a quiet, soft "sound cloud" coming from the inside of the estate was created. The single "voice" of each tree consisted of smoothly, quiet "glittering" sounds.
The installation was divided into four smaller groups in which the "voices" of the trees together formed "parts". The spatiality of the estate was accentuated by slowly panning – like the sun light - in between the four different groups of trees. Through this, the perspective and depth of the space was emphasized.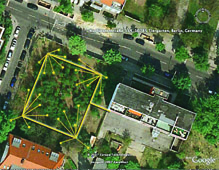 Overview of the location Kurfürstenstraße 134. Berlin. Yellow marked fields below indicate sound installation area and the position of the 24 loud-speakers divided into four groups. Area approximated to 26 x 24 meters.