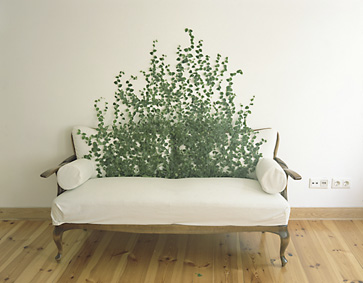 Memory Gardens (2004-2007)
Lambda digital photographic prints
70x100 cm.

Memory Gardens is a photographic sequence, containing around twenty photographed interiors of apartments where plants are growing in the rooms out of the interior itself.
A parquet floor where tiny white flowers grow and blossom or a darkened hall where a frail fir shoot sprouts out of the threshold itself, as some examples from the series.
The piece is to be seen as separate stories where the actual event – the previous scene – has disappeared, and only the impression – the memory – remains, and is expressed by these plants.
Within the meaning of loss and memory lies the concept of nature and culture as important parts in the series. Nature, on the one hand, through the trees and plants that each piece of furniture is made of, culture on the other hand, merely through the furniture that the trees have become by being chopped down, moulded into objects and connected to an individual's personal tale.
For Memory Gardens I was awarded the scholarship of Grez-sur-Loing from the Hasselblad foundation.